Daniel Solis started me thinking about Legacy games again from his post on a Legacy style trick taking game, and an older one on how to Legacy hack some popular games. So a few years after RISK: Legacy first came out and a couple of new legacy games and concepts discovered down the line and I have a few thoughts.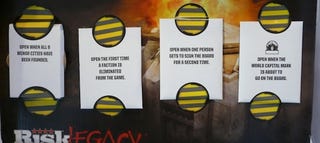 The first and foremost is the problem of legacy games rewarding the winner so much. It can serve as a way to mitigate luck in a game like RISK, but it is also rewarding the player who proves himself the best at the game. When a player racks up a few wins it can become a 1 vs 3 kind of game. I haven't personally had this problem, I've just heard about it in other groups.

The second problem is that of changing groups. If you can't commit to play 15 games through it really messes with the whole legacy concept. New players have no idea what happened before, and find themselves at a disadvantage through no fault of their own.

The third idea and problem with some of the latest legacy concepts is the idea of legacy as a narrative tool, rather than mechanical one. The original concept of Rob Daviau was that of a game that becomes a story. Like a DnD campaign it continues beyond just an initial setting. I think that incorporating a narrative goes further than just naming things and giving bonuses that carryover across games. I think this is the real challenge. Creating an ongoing story. A little flavor text can go a long way here. I had the privilege to play an iteration of SeaFall at BGGcon and it was chock full of flavor and flavor text. I think this can be crucial for explaining why certain mechanics play into a story etc.
I'm still toying with some legacy concepts so I would like to explore this further. It's a neat arena and I think 'Legacying' micro games or familiar games is a great area for designers to explore. Just make sure it's about the narrative!
What games do wish wish could tell an over arching story?
I'll start this off with Coup…
A legacy social game could be incredible!